Mazda CX-5 Performance Parts
Not just another small SUV, the compact crossover Mazda CX-5 provides an ideal combination of versatility, performance and fun. Utilizing Mazda's SKYACTIV engine technology, the CX-5 delivers outstanding fuel economy without sacrificing performance. Racing Beat offers a select line of Mazda CX-5 performance upgrade components for all models; review our parts listing for available products.
NEWS FROM THE INSIDE
CX-3 Exhaust Coming Soon!
We've been busy working on a sport exhaust system for the Mazda CX-3 application, we expect to have systems ready by early next year! All stainless steel construction, great looks, awesome sound, we'll post more information as we get closer to our release date.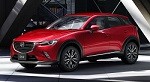 Posted by Jim L November 22, 2016
KONI introduces shocks for Mazda CX-5

Koni USA introduces new shocks for the CX-5 model application! Upgrade the handling performance of your Mazda CX-5 with a set of legendary Koni Yellow Sport shocks. The front shocks feature externally adjustable rebound control, while the rear units incorporate Koni's traditional external "twist" adjustment method. Compatible for use with either stock springs or compatible aftermarket units.
Posted by Jim L November 23, 2016
FEATURES
Car and Driver Magazine takes a drive in the new-for-2014 CX-5 fitted with the larger 2.5L engine. Is this engine worth the upgrade? Read on.

The 2013 SEMA Show featured several exciting CX-5 concept vehicles from Mazda USA, all featuring Racing Beat exhaust systems. Skip ahead to the 2:10 mark in the video and take a look!