Mazda 3 Performance Parts
Mazda 3
Racing Beat offers a wide selection of Mazda3 performance parts for a range of models. Among the more popular upgrades with Mazda3 owners are intake, exhaust and suspension modifications, we invite you to review our Mazda3 parts listing and contact with us with questions regarding our Racing Beat Mazda3 parts. We're amazed at the performance potential of the Mazda3; our experience has shown that this chassis is very responsive to aftermarket upgrades and modifications. What are you waiting for? Get started on your upgrades today!
NEWS FROM THE INSIDE
New 2020 shirts are here!
Just in time for the holidays we've added a new shirt design to the line-up. Super soft shirts and a new vintage-aged logo design provide a contemporary look and awesome comfort! All sizes available.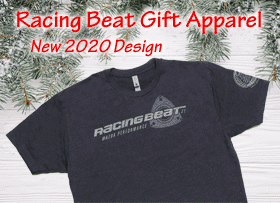 Posted by Jim L November 28, 2019
Forged And Getting Stronger – They've arrived!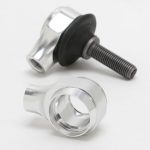 Good news for our widely popular ball-joint sway bar end link housings! While our sway bar end link kits that contain these housings have been incredibly popular, we've struggled to keep these on the shelf due to the laborious two-step manufacturing process. We've FINALLY sorted it out with a new vendor, but in the process it yielded an unexpected bonus, the new housings will now be produced using a stronger, forged aluminum housing! Even better news….they've arrived and are back in stock!
Posted by Jim L June 15, 2018
FEATURES
Who better to give you a tech-talk than Mazda's own tech guy and RB friend, Dave Coleman! Discover the inner-workings of the Mazda3 Skyactiv application.

Adding a set of swaybars to your Mazda3 is a great way to improve handling. We've answered some of your most popular swaybar questions in this guide.
TOP SELLERS & FAVORITES
| | | |
| --- | --- | --- |
| Cat-back Mazda 3 exhaust system for the 04-09 Mazda 3s 2.5l Sedan. | [press]71215_dyno.pdf[/press] The Racing Beat Power ... | NEW! These sport-tuned Koni shocks are intended for use on lowered street vehicles - great ride and performance. |