Mazda 3 Performance Parts
Mazda 3
Racing Beat offers a wide selection of Mazda3 performance parts for a range of models. Among the more popular upgrades with Mazda3 owners are intake, exhaust and suspension modifications, we invite you to review our Mazda3 parts listing and contact with us with questions regarding our Racing Beat Mazda3 parts. We're amazed at the performance potential of the Mazda3; our experience has shown that this chassis is very responsive to aftermarket upgrades and modifications. What are you waiting for? Get started on your upgrades today!
NEWS FROM THE INSIDE
Racing Beat Returns In Forza Horizon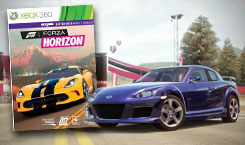 Racing Beat is back again in the just-released Xbox game, Forza Horizon. Unlike a typical racing game, Forza Horizon is an open-world game which allows the game player to explore, race, and drift along the vast highways of Colorado while attending the fictional Horizon Festival. The goal of this game is to earn fame by competing in various competitions while driving fast, destroying property, avoiding traffic and causing general mayhem along the way!
Posted by Jim L May 14, 2013
FEATURES
| | |
| --- | --- |
| | Adding a set of swaybars to your Mazda3 is a great way to improve handling. We've answered some of your most popular swaybar questions in this guide. |
| | Considering an aftermarket exhuast for your Mazda3? Before you begin your search read this helpful guide. |
TOP SELLERS & FAVORITES
| | | |
| --- | --- | --- |
| Cat-back Mazda 3 exhaust system for the 04-09 Mazda 3s 2.5l Sedan. | Cat-back Mazda 3 exhaust system for the 04-09 Mazda 3s 2.5L 5-Door. | NEW! These sport-tuned Koni shocks are intended for use on lowered street vehicles - great ride and performance. |