1990-2005 Mazda Miata Performance Parts
1990-2005 Miata
Racing Beat has been at the heart Mazda performance products since 1971. For the Miata we offer one of the most extensive selections of Miata performance and appearance products available from any one manufacturer. Racing Beat's signature products include an extensive offering of our Power Pulse exhaust line, Miata suspension parts, chassis, and appearance items - all designed and engineered by Racing Beat specifically for the Miata. We invite you to review our online Miata parts listings and contact us with any questions you may have regarding a specific component for your Miata.
NEWS FROM THE INSIDE
Sway into action, MX-5 ND Bars are here!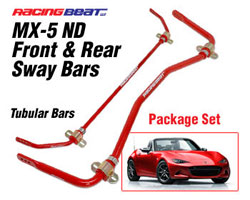 Great Racing Beat quality and performance in one package, check out the details and specifications here. One of the easiest and most cost effective ways to transform the handling performance of your MX-5.
Posted by Jim L March 01, 2019
MX-5 ND Springs now available!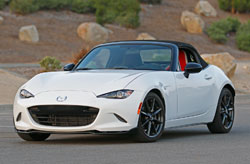 They're finally here, we now have Racing Beat springs for the 2016-18 MX-5 ND Soft Top. Great for street or track use, our springs offer a significant upgrade in your suspension's performance potential. Great combination of modest rate increase and ride height drop. Check them out here!
Posted by Jim L August 17, 2018
FEATURES
| | |
| --- | --- |
| | Adding a set of swaybars to your Miata is a great way to improve handling. Here are the answers to your most popular questions. |
| | Here's our list of the best Miata upgrades for your performance dollar. |
TOP SELLERS & FAVORITES
| | | |
| --- | --- | --- |
| We consider this to be the best looking nose kit on the market! It's been a top seller for years. | Designed and manufactured by Racing Beat, our Power Pulse ... | Suspension Package for 1994-97 Miatas - Now's your ... |