1990-2005 Mazda Miata Performance Parts
1990-2005 Miata
Racing Beat has been at the heart Mazda performance products since 1971. For the Miata we offer one of the most extensive selections of Miata performance and appearance products available from any one manufacturer. Racing Beat's signature products include an extensive offering of our Power Pulse exhaust line, Miata suspension parts, chassis, and appearance items - all designed and engineered by Racing Beat specifically for the Miata. We invite you to review our online Miata parts listings and contact us with any questions you may have regarding a specific component for your Miata.
NEWS FROM THE INSIDE
1990-97 Miata Race Exhaust
This week we're sharing the prototype photos of the new Race Exhaust for the 1990-97 Miata. Super simple and lightweight, this muffler can be paired with either our resonated or non-resonated connecting pipe section – depending on the sound level you prefer. We'll be receiving the production components in early summer. Once they arrive we should be able to weld these together fairly quickly. More details later!
Posted by Jim L May 15, 2017
New 1990-97 and 1999-2005 Miata Exhaust Coming Soon!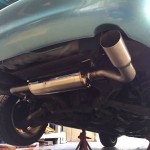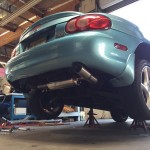 We've been busy with two new exhaust designs for the 90-97 and 99-05 Miata applications! For those looking for a lightweight, mean-and-lean exhaust for your Miata we'll have just what you're looking for in the next few months. Great sounding and 100% stainless steel construction. The 90-97 Miata applications will mate this new muffler to either the Racing Beat resonated or non-resonated connecting pipe, while the 99-05 Miata application muffler will connect directly to the stock mid-pipe (shown in photo), or your choice aftermarket race pipe. We should have these available this summer, more information will be posted later.
Posted by Jim L May 15, 2017
FEATURES
| | |
| --- | --- |
| | Here's our list of the best Miata upgrades for your performance dollar. |
| | Adding a set of swaybars to your Miata is a great way to improve handling. Here are the answers to your most popular questions. |
TOP SELLERS & FAVORITES
| | | |
| --- | --- | --- |
| Ideal upgrade when using stronger aftermarket sway bars. | We consider this to be the best looking nose kit on the market! It's been a top seller for years. | Not just a simple cover but complete replacement seat covers. Great price! |