2006-2017 Mazda MX-5 Performance Parts
Miata MX-5
Racing Beat has been at the heart Mazda performance since our inception in 1971. The third major revision of the Miata was revealed in 2006 with the introduction of the renamed MX-5, and the current MX-5 version was revealed in 2015. Engineered and designed by Racing Beat specifically for the MX-5 application, we offer an extensive offering of engine and suspension products for Mazda's ultimate sports car. We invite you to review our online product listings and contact us any questions you may have regarding a specific component for your MX-5.
NEWS FROM THE INSIDE
2016-17 MX-5 Exhaust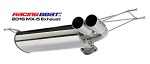 Racing Beat has been busy with the development of TWO new exhaust systems for the all-new 2016 MX-5! The version shown is our Twin-Outlet Power Pulse Street version, which combines impression sound with dramatic looks. On the heals of the Sport Exhaust we introduced our more aggressive Sport/Race Exhaust version, which offers an even more aggressive exhaust note and significant weight savings as compared with the stock muffler. Both have been well received and have been selling great, check it out!
Posted by Jim L November 23, 2016
Racing Beat Flywheel For The Miata Returns!

After a several year hiatus the Racing Beat aluminum flywheel for the 90-97 Miata has returned! Proudly produced in the USA by Racing Beat, this awesome flywheel is great upgrade for any street or track Miata application. We offer a flywheels for both the 1990-93 (1.6L) and 1997-2005 (1.8L) Miata .
The Racing Beat lightweight flywheel is 10 lbs lighter than the stock flywheel and offers much improved shifting performance. A great upgrade to consider when installing a replacement clutch and pressure plate combo.
Posted by Jim L November 23, 2016
FEATURES
| | |
| --- | --- |
| | If you thought the handling of your MX-5 is great now, just wait until you install a set of performance sway bars! |
| | Upgrade your exhaust system with a stainless steel exhaust header. |
TOP SELLERS & FAVORITES
| | | |
| --- | --- | --- |
| Stainless steel header for all MX-5 applications. | Great sound and appearance! | Upgrade your bars for improved handling! |