Mazda Miata & MX5 Performance Parts
Miata Performance and Appearance
Welcome to the Miata parts and performance section of our website, we invite you to select your model year range from the above menu and review our parts selection. Racing Beat offers one of the most extensive selections of performance and appearance products available from any one manufacturer and our signature products include an extensive offering of exhaust, suspension, chassis, and appearance items - all designed and engineered by Racing Beat specifically for the Miata application. Please contact us any questions you may have regarding a specific component for your Miata.
NEWS FROM THE INSIDE
Forged And Getting Stronger – They've arrived!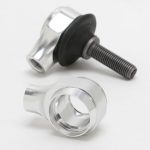 Good news for our widely popular ball-joint sway bar end link housings! While our sway bar end link kits that contain these housings have been incredibly popular, we've struggled to keep these on the shelf due to the laborious two-step manufacturing process. We've FINALLY sorted it out with a new vendor, but in the process it yielded an unexpected bonus, the new housings will now be produced using a stronger, forged aluminum housing! Even better news….they've arrived and are back in stock!
Posted by Jim L June 15, 2018
Miata MX-5 ND Race Pipe
We're in the home stretch with the fabrications of our new 2-piece resonated Race Pipe for the 2016-2018 MX-5 ND. Crafted in-house by Racing Beat using 2.375″ OD 304 SS tubing, these race pipes are direct bolt-on replacement for the stock mid-pipe section. Completion date – April 2018.
Posted by Jim L February 15, 2018
FEATURES
| | |
| --- | --- |
| | If you thought the handling of your MX-5 is great now, just wait until you install a set of performance bars! |
| | Upgrade your exhaust system with a stainless steel exhaust header. |
TOP SELLERS & FAVORITES
| | |
| --- | --- |
| The K&N Recharger Kit (K&N 99-5000) is designed to ... | Celebrate Racing Beat's history of Mazda performance ... |