Mazda Protege Performance Parts
1999-2003 Protege
Racing Beat's introduction to the Mazda Protege began with a request by Mazda USA to assist with the development of the 2001 Protege MP3. After this project was completed and these vehicles began appearing in Mazda's showrooms, we began offering performance products for Mazda's newest sports sedan. Our performance parts offering for the Protege was later expanded to include the popular Protege5, we invite you to review our online parts selection and contact with your technical questions.
NEWS FROM THE INSIDE
Racing Beat Returns In Forza Horizon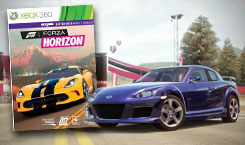 Racing Beat is back again in the just-released Xbox game, Forza Horizon. Unlike a typical racing game, Forza Horizon is an open-world game which allows the game player to explore, race, and drift along the vast highways of Colorado while attending the fictional Horizon Festival. The goal of this game is to earn fame by competing in various competitions while driving fast, destroying property, avoiding traffic and causing general mayhem along the way!
Posted by Jim L May 14, 2013
FEATURES
| | |
| --- | --- |
| | Read the official press release from Mazda regarding the Mazdaspeed Protege project. |
| | Follow along as we work with Mazda R&D on the development of the 2001 MP3 Protege project. |
TOP SELLERS & FAVORITES
| | | |
| --- | --- | --- |
| Cat-back emissions legal. Easy to install bolt-on design - awesome sound! | Easy to install, great performance! | Lowering springs for either the sedan or Protege5. |