Early Rotary & 1979-85 Mazda RX-7
The Heart Of Rotary Performance
Welcome to Racing Beat, the heart of rotary performance since 1971! Although Mazda has introduced many new vehicles over the years, our passion has been rooted with the rotary-enigined vehicles since their introduction. Now, many years later, these vehicles have become modern classics and are finding their way into the hands of owners that are looking to restore and/or improve the performance of these unique vehicles. Racing Beat offers one of the world's largest product offerings of performance parts dedicated specifically for rotary-powered vehicles. We invite you to review our online parts selection and contact us with your technical questions.
NEWS FROM THE INSIDE
Laser Cut Exhaust Port Templates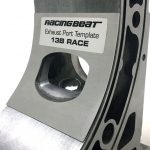 We now offer laser-cut exhaust porting templates for 12A & 13B performance and race applications. Patterned after the original templates designed decades ago by Racing Beat's race engine builder Jim Mederer, these templates are now easier to use. Just mark the location per the instructions, hold in place, and then scribe the pattern!
Posted by Jim L June 22, 2018
Goodridge Stainless Steel Clutch Lines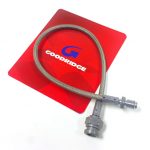 Racing Beat has teamed up with world renowned hydraulics supplier Goodridge LTD (UK) to offer a line of braided stainless steel clutch lines for the 1981-85 and 1986-92 RX-7 applications. Hard to believe that this gap has existed for all these years in their product line, so we reached out to see it they'd be interested in producing these lines for us. The answer was obviously "yes", and we now have these high-quality lines available exclusively through Racing Beat. Exact fit, great price, check it out!
Posted by Jim L March 12, 2018
FEATURES
| | |
| --- | --- |
| | Considering a new intake system for your RX-7? Review our performance comparison guide to get you started. |
| | We spent some time at the track with Jeff, here's our interview. |
TOP SELLERS & FAVORITES
| | | |
| --- | --- | --- |
| Improve the handling of your 1979-85 RX-7 (all models) with ... | Complete Holley intake kits - includes manifold and air cleaner, ready to install! | Replacement silicone hose sets designed specifically for the RX-7. |