1993-95 Mazda RX-7 Performance Parts
1993-95 RX-7
History has proven the 1993-95 RX-7 to be Mazda's ultimate rotary-powered production sports car. Aggressive styling and a powerful turbocharged 13B engine provided the perfect tuning platform for the performance enthusiast. Considered by many to be one of the best-looking sportscars of 90's, the classic flowing design of this car still envokes found memories from devout rotary enthusiasts around the globe. Racing Beat continues to offer a wide selection of parts for the FD3S RX-7, we invite you to review our online product listings and contact us with your technical questions regarding our products.
NEWS FROM THE INSIDE
1979-85 RX-7 Brakes
Good news, we've working on some exciting components for the entire range of 1979-85 RX-7 brake applications. We hope to soon announce the introduction of several sets of very high quality, made exclusively for Racing Beat, brake stainless steel brake lines for ALL early RX-7 models. We'll also be adding a complete line of replacement brake rotors and bearing kits to complete the offering. Stay tuned!
Posted by Jim L September 22, 2018
Laser Cut Exhaust Port Templates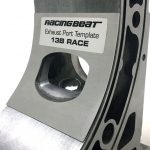 We now offer laser-cut exhaust porting templates for 12A & 13B performance and race applications. Patterned after the original templates designed decades ago by Racing Beat's race engine builder Jim Mederer, these templates are now easier to use. Just mark the location per the instructions, hold in place, and then scribe the pattern!
Posted by Jim L June 22, 2018
FEATURES
| | |
| --- | --- |
| | We spent some time at the track with Jeff, here's our interview. |
| | We address this often asked question, read our opinion on this subject. |
TOP SELLERS & FAVORITES
| | | |
| --- | --- | --- |
| Our #1 selling exhaust system - great sound, bolt-on, dual tip outlet design. | Racing Beat lowering springs for street or track use. | Sway bar set 1993-95 Our Racing Beat designed solid front ... |