1993-95 Mazda RX-7 Performance Parts
1993-95 RX-7
History has proven the 1993-95 RX-7 to be Mazda's ultimate rotary-powered production sports car. Aggressive styling and a powerful turbocharged 13B engine provided the perfect tuning platform for the performance enthusiast. Considered by many to be one of the best-looking sportscars of 90's, the classic flowing design of this car still envokes found memories from devout rotary enthusiasts around the globe. Racing Beat continues to offer a wide selection of parts for the FD3S RX-7, we invite you to review our online product listings and contact us with your technical questions regarding our products.
NEWS FROM THE INSIDE
New 2020 shirts are here!
For 2020 we've added a new Racing Beat shirt design to the line-up. Super soft shirts and a new vintage-aged logo design provide a contemporary look and awesome comfort! Our best fitting shirt ever. All sizes available.
Posted by Jim L January 07, 2020
1979-85 RX-7 Mufflers – They're back!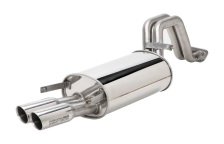 Our Power Pulse mufflers for all 1979-85 RX-7's are now back in stock! The dual inlet Street Port muffler shown is a direct fit for all 81-82 RX-7's and is also used in all Street Port Complete Dual Exhaust systems that we offer. Check them out in the Exhaust section of the parts catalog.
Posted by Jim L November 27, 2019
FEATURES
| | |
| --- | --- |
| | We address this often asked question, read our opinion on this subject. |
| | We spent some time at the track with Jeff, here's our interview. |
TOP SELLERS & FAVORITES
| | | |
| --- | --- | --- |
| Sway bar set 1993-95 Our Racing Beat designed solid front ... | Racing Beat-designed RX-7 flywheels are both ... | Our #1 selling exhaust system - great sound, bolt-on, dual tip outlet design. |