Mazda RX-7 Performance Parts
Welcome to the rotary RX-7 parts and performance section of our website, we invite you to select your model year range from the above menu and review our RX-7 parts selection. Racing Beat offers one of the most extensive selections of RX-7 performance parts and appearance products available from any one manufacturer and our signature products include an extensive offering of rotary exhaust, suspension, RX-7 chassis, and appearance items - all designed and engineered by Racing Beat specifically for Mazda's rotary engine application. Please contact us any questions you may have regarding a specific component for your rotary engine and/or RX-7.
NEWS FROM THE INSIDE
SevenStock19 Photo Album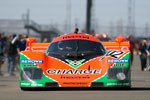 Take a look at our SevenStock19 photo album from the event! Thanks to Mazda for bringing out the Racing Beat Bonneville Land Speed Record RX-7s, it was great to see these old friends once again. While many of the land speed records only last for a handful of years, it's amazing to think that both of these RX-7s have held their respective land speed records for over 20 & 30 years! A big thanks to the SevenStock organizers for making an effort to recognize the contributions of Jim Mederer, Racing Beat's co-founder and chief engineer for his 40+ year commitment to the development of rotary engine performance.
Posted by Jim L October 03, 2016
FEATURES
| | |
| --- | --- |
| | We spent some time at the track with Jeff, here's our interview. |
| | We address this often asked question, read our opinion on this subject. |
TOP SELLERS & FAVORITES
| | | |
| --- | --- | --- |
| The Racing Beat Sport Team shirt features a contemporary 3-... | Sporting the Racing Beat logo, this cap features a mid-... | Great gift ideas for the holidays! These high quality prints are ideal for any Mazda enthusiast. |