Mazda RX-8 Performance Parts
Your Mazda RX-8 is the final result of over 25 years of refinement and tuning of Mazda's famed rotary engine. The improvements that have been made to the performance and reliability of Mazda's rotary powered vehicles over the years is truly remarkable. When the RX-8 was released in 2004 excited enthusiasts and tuners rushed to begin tuning the Renesis engine in an effort to uncover additional performance gains. As an RX-8 owner, you benefit from this vast array of tuning talent and experience you're now presented with a wide range of performance RX-8 parts for your vehicle. Racing Beat has been a leader in the development of rotary parts for over 40 years and proudly continues the march forward. We invite you to review our online RX-8 parts offering and contact us with any technical questions you might have regarding your RX-8.
NEWS FROM THE INSIDE
EXEDY RX-8 Clutch Kit
Exedy now offers a revised complete clutch replacement kit for the RX-8 application. This kit contains an organic compound disc, pressure plate, throw out bearing, pilot bearing, and an alignment tool. This Exedy Kit (Exedy PN 10812) replaces the RX-7/RX-8 combo kit (Exedy PN 10803A – still available for RX-7).

Posted by Jim L August 18, 2015
RX-8 Race Exhaust System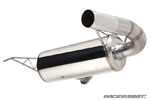 We've added a new RX-8 Race exhaust system to our line up! This system features a lightweight muffler canister and a single outlet tube/tip section to route exhaust gases out the rear of the RX-8. Offered for both the 2004-08 and 2009-11 bumper configurations, the RX-8 exhaust includes a connecting pipe section and all mounting hardware.
Posted by Jim L August 08, 2014
FEATURES
| | |
| --- | --- |
| | Considering an aftermarket exhuast for your RX-8? We've prepared a guide to answer all your questions. |
| | The Racing Beat REVi system is one of most popular intakes on the market , we'll tell you why. |
TOP SELLERS & FAVORITES
| | | |
| --- | --- | --- |
| Racing Beat-designed RX-7 flywheels are both ... | The Exedy Complete Clutch Kit Stage 1 for the 2009-11 Mazda ... | Our #1 Selling Exhaust System! 2004-08 RX-8 - great sound, bolt-on, street legal! |