Mazda RX-8 Performance Parts
Your Mazda RX-8 is the final result of over 25 years of refinement and tuning of Mazda's famed rotary engine. The improvements that have been made to the performance and reliability of Mazda's rotary powered vehicles over the years is truly remarkable. When the RX-8 was released in 2004 excited enthusiasts and tuners rushed to begin tuning the Renesis engine in an effort to uncover additional performance gains. As an RX-8 owner, you benefit from this vast array of tuning talent and experience you're now presented with a wide range of performance RX-8 parts for your vehicle. Racing Beat has been a leader in the development of rotary parts for over 40 years and proudly continues the march forward. We invite you to review our online RX-8 parts offering and contact us with any technical questions you might have regarding your RX-8.
NEWS FROM THE INSIDE
SevenStock19 Photo Album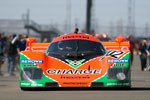 Take a look at our SevenStock19 photo album from the event! Thanks to Mazda for bringing out the Racing Beat Bonneville Land Speed Record RX-7s, it was great to see these old friends once again. While many of the land speed records only last for a handful of years, it's amazing to think that both of these RX-7s have held their respective land speed records for over 20 & 30 years! A big thanks to the SevenStock organizers for making an effort to recognize the contributions of Jim Mederer, Racing Beat's co-founder and chief engineer for his 40+ year commitment to the development of rotary engine performance.
Posted by Jim L October 03, 2016
FEATURES
| | |
| --- | --- |
| | The Racing Beat REVi system is one of most popular intakes on the market , we'll tell you why. |
| | Considering an aftermarket exhuast for your RX-8? We've prepared a guide to answer all your questions. |
TOP SELLERS & FAVORITES
| | | |
| --- | --- | --- |
| Our #1 Selling Exhaust System! 2004-08 RX-8 - great sound, bolt-on, street legal! | Monitor critical engine performance with this ready-to-install kit. Everything included! | Computer programs available for street, race and ported engines. |