Welcome to Racing Beat
Welcome to Racing Beat
Thanks for visiting Racing Beat, the heart of Mazda performance for over 40 years! Over the past few years we've expanded our product line to include products for the Mazda 3 and Mazda 2 applications, with more new products on the way. Our popular Rotary Tech Tips section is an exhaustive resource guide offering valuable and time-saving advice compiled from years modifying rotary engines. We're here to answer your questions, send us an email message or give us a call.
The Racing Beat Crew
3-TIME BONNEVILLE LAND SPEED RECORD HOLDER
Racing Through The Years
Our history began with the intro- duction of the rotary engine to the US, and we've never slowed down since.
From special projects, race applications and production vehicles, our partnership with Mazda extends over 40 years.
Are you aware that all your favorite Racing Beat parts are developed and tested in-house?
News From The Inside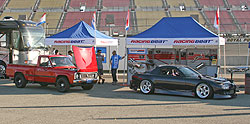 Sevenstock 16, held on 11/9/13 at Auto Club Speedway in Fontana, CA, was a great success and a ton of fun! Mazda ran several of their historic 4-rotor race cars on the speedway oval/road course, ...
Posted by Jim L November 14, 2013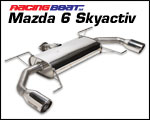 Racing Beat Power Pulse Exhaust Systems for the 2014 Mazda 6 Skyactiv are now available! Developed by Racing Beat specifically for Mazda's Skyactiv engines, these exhaust systems add just the ...
Posted by Jim L September 12, 2013
Racing Beat exhaust systems for the 2012-13 Mazda 3 2.0L Skyactiv are now available! We offer versions for both the sedan and 5-door models, these systems look and sound great. Check them out in the...
Posted by Jim L September 20, 2013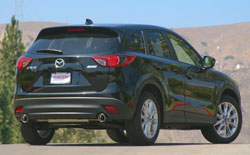 We've confirmed fitment of our Racing Beat CX-5 muffler on both the 2.0, 2.5L and 2.5L AWD Skyactiv chassis! This exhaust looks and sounds great, review full details at the product listing in ...
Posted by Jim L September 20, 2013
Latest Videos
Mazda Furai Concept Car

Listen to that 3-rotor engine scream - Racing Beat built it!

Mazda6 Exhaust

Hear the Mazda6 Racing Beat exhaust in action.
» See All Mazda Performance Videos