Welcome to Racing Beat
Welcome to Racing Beat
Thanks for visiting Racing Beat, the heart of Mazda performance for over 40 years! Over the past few years we've expanded our product line to include products for the Mazda 3 and Mazda 2 applications, with more new products on the way. Our popular Rotary Tech Tips section is an exhaustive resource guide offering valuable and time-saving advice compiled from years modifying rotary engines. We're here to answer your questions, send us an email message or give us a call.
The Racing Beat Crew
3-TIME BONNEVILLE LAND SPEED RECORD HOLDER
Racing Through The Years
Our history began with the intro- duction of the rotary engine to the US, and we've never slowed down since.
From special projects, race applications and production vehicles, our partnership with Mazda extends over 40 years.
Are you aware that all your favorite Racing Beat parts are developed and tested in-house?
News From The Inside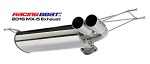 Racing Beat has been busy with the development of TWO new exhaust systems for the all-new 2016 MX-5! The version shown is our twin-outlet sport/street version, which combines impression sound with ...
Posted by Jim L August 28, 2015

Exedy now offers a revised complete clutch replacement kit for the RX-8 application. This kit contains an organic compound disc, pressure plate, throw out bearing, pilot bearing, and an alignment tool...
Posted by Jim L August 18, 2015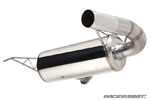 We've added a new RX-8 Race exhaust system to our line up! This system features a lightweight muffler canister and a single outlet tube/tip section to route exhaust gases out the rear of the RX-...
Posted by Jim L August 08, 2014

We've recently updated the tip on our 2004-09 Mazda 3 5-Dr exhaust systems to a more aggressive 4″ OD style! This new tip looks great on the Mazda 3 and adds a bit more aggressive punch to...
Posted by Jim L August 08, 2014
Latest Videos
Mazda2 Wall of Death

See the amazing Mazda2 take on the Wall of Death

Beyond The Checkered Flag - Racing Beat's IMSA RX-7

Vintage footage of Racing Beat's victory at the 1983 24 Hours Of Daytona.
» See All Mazda Performance Videos